YourShippingBuddy Helps The World To Shop Easily
Written by YourShippingBuddy Team on June 9th, 2021.
We talked to YourShippingBuddy Team about YourShippingBuddy, your Shopping & Shipping friend from India, that facilitates shopping from India and shipping worldwide. It can facilitate shopping from online sites, local stores, vendors, package pickups.
First of all, how are you and your family doing in these COVID-19 times?
With heavy heart and courage trying to balance things with the loss of four dearest souls in this pandemic.
Taking all sorts of precautions to maintain the safety and eating health to keep the immunity high.
Tell us about you, your career, how you founded or joined this company?
I am a post graduate in Commerce and In industry for 10 years, started from scratch and founded a logistics company in 2018, due to the need of the hour to start a product/service under the banner of YourShippingBuddy in 2020.
What is YourShippingBuddy?
YourShippingBuddy is your Shopping & Shipping friend from India, that facilitates shopping from India and shipping worldwide. It can facilitate shopping from online sites, local stores, vendors, package pickups, and specific regional items. Either you can shop yourself and ship items to our base or use YourShippingBuddy Personal Shoppers to shop on your behalf from India.
If you already shopped then do let us know for shipping, in India or abroad.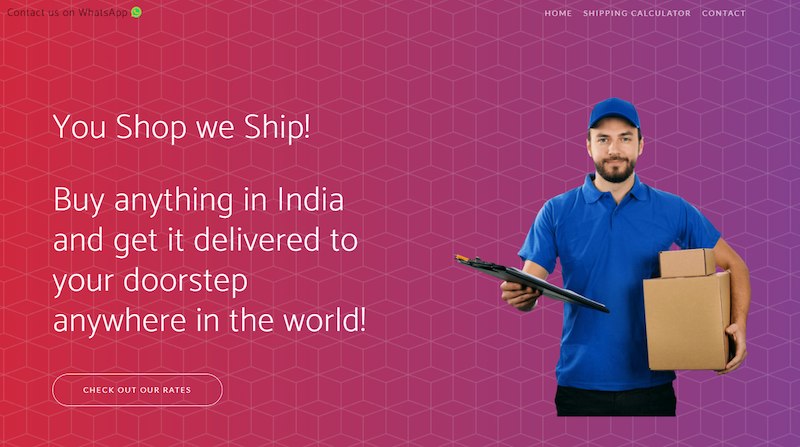 Shop & Ship anything from India.
We facilitate not just international delivery but also international air freight booking, domestic cargo, domestic air cargo booking within all Indian cities. A customer can also book their cargo through road and other inland freight transportation options. The convenience of booking cargo door-to-destination, involving multi-modal transportation within India and across the borders is what we offer.
Happy to share that today we ship to 27,000+ pincode in India 190+ countries worldwide.
If someone wants to ship items from Australia, Singapore, Switzerland, UK, USA, Canada, UAE or any other country to India, can you help?
Yes, we will do that happily. During COVID-19 pandemic we facilitated the delivery and sent medicine, Oxygen concentrators, oxygen cylinders etc globally.
How does your company innovate?
Day to day interaction during work with client and specially during Covid-19 make us realise that how nostalgic often people are for the products which is available in India be it cloths, handicraft, books etc.
So we decided to start YourShippingBuddy and solve the problem of buying or picking and then delivering it to their doorstep at their own comfort.
With the help of our calculator we find the reasonable price and the optimized route for the delivery.
Where companies are rushing toward Automation, IVR and Chatbots which is often frustrating to clients who want to talk to a real human and get the issue resolved. We are following a hybrid of it.
We have ABC(Account Base Consulting) for SMB and MSME, even for retail if that is a repeat client.This helps to improve very fast as we get quick feedback.
How the coronavirus pandemic affects your business, and how are you coping?
For sure Logistics firms, which are involved in the movement, storage, and flow of goods, have been directly affected by the COVID-19 pandemic.
Not only within but across borders too. Though it does increase last-mile volumes which is an opportunity for the business but handling it is how smartly it is being done.
The country and region wise norms, COVID-19 impact rate, cash flow to sustain, precautions, safety, employee wellness, client's commitment etc are few points which are on top of mind.
Did you have to make difficult choices, and what are the lessons learned?
It is obvious that a strategic plan is a framework or series of guideposts that keeps an Operating plan on the right path to meeting objectives but at the same time if you are new to any industry then it becomes even harder to forecast any situation, in that case we had to make decisions in real time.
The most difficult thing in the logistics industry is to fulfill the commitment that is done to the customer. Because if we fail then we also lose the trust in them resulting in negative publicity.
We use multiple brand services providing across border service in which we had to choose which is the right one in the current scenario.
Engaging in International courier /cargo is itself a difficult choice as compared to domestic one. Domestic service requires very little documentation whereas across borders service requires a lot of paperworks from our side and that needs to comply during custom clearance.
As said by someone that "Learning is a lifelong process" so we learn lessons almost every day while shipping different consignments.
This Industry not only assists people in fulfilling their logistic needs but also sometimes serves the nation alike we are doing in current scenario by importing Oxygen concentrators and oxygen cylinders from various countries with a very nominal rate of shipping at 0% profit.
What specific tools, software, and management skills are you using to navigate this crisis and stress?
Cloud Storage is the first.
Right now word of the mouth is the main source to generate lead. Quality of service is the priority so automatically the brand propagates. We have designed our own shipping calculator in order to find the most reasonable price at the time of search performed & optimized route at the first level ,then depending on the requirement our Logistics Consultant suggests the best.
We do use Analytics to understand what visitors are looking for online and by the data we try to improve the visitor experience.You may see continuous changes in terms of feature and engagement on the website down the line. For offline or call center interactions we are working on to blend that with online data to better understand the customer requirement and improve for better customer experience.
We use business communication platforms like Slack for the communication to be fast and secure.
We have an internal tracking mechanism to know at which stage the assignment is.
Who are your competitors? And how do you plan to stay in the game?
We are the starter in this space as shared we are in market since 2018 and in 2020 we launch the website, prior to it we were managing all through walk-in, sms, whatsapp, call center etc.'p>

Your final thoughts?
The global logistics market is estimated to reach 15.5 Trillion USD by the year 2023 in terms of revenue. Logistics & technology are integrated with the evolution ,so that growth & efficiency of the logistic industry can be enhanced.
Logistics is regarded as the backbone of the economy. India is in the top 10 largest countries in sq. km. and every region here is different from others.
Due to this pandemic people are more inclined to do online shopping and in our case we are opening options for people living outside India to order or use the product which is famous in the region and enjoy using it.
YourShippingBuddy's website and how people can contact YourShippingBuddy?
https://yourshippingbuddy.com/
Sharing is caring. By sharing this article, you help your friends find this article, that may not happen otherwise without your assistance.