interTouch Cares About Its People, And They Care About interTouch's Business
Written by Francisco Martín, interTouch Vice President of Operations, IT and Engineering for the Americas, EMEA and South Asia Regions on August 19th, 2021.
SkillFront talked to Francisco Martín, interTouch Vice President of Operations, IT and Engineering for the Americas, EMEA and South Asia Regions. With more than 30 offices around the world, interTouch is the largest, leading global provider of cloud-based Internet, guest entertainment and casting, virtual assistant, Passpoint and telephony solutions for the hospitality industry.
First of all, how are you and your family doing in these COVID-19 times?
I lost my father due to a side effect of COVID19 because of the pandemic, situation in hospitals, and his personal health-situation. He couldn't go to his checks, and unfortunately, we lost him in December last year. On the other hand, now everyone is doing well, thankfully only my uncle got infected, but it was not a critical patient, and he is doing well now. My core family members are fully vaccinated, and we are glad our Spanish government put significant efforts in getting all age ranges vaccinated ASAP, now even including above 12.
Tell us about you, your career, how you founded or joined this company?
I am Francisco Martín, interTouch Vice President of Operations. I'm an IT guy for 15 years already and with experience in several verticals such as: consulting, pharma, banking, insurances, public sector, automotive and hospitality. The most valuable credentials I hold an International Master in Business Administration, Master in Project Management and a Master in Software Engineering and IT Systems from different international prestigious universities.
When it comes to joining this company, it was pretty straightforward. One of my best friends joined the company and he asked me to come. In the company already had several persons I knew because of our previous company such as my manager and one of my delegates. I had the opportunity to, in a matter of less than a year, recruit the best professionals in the market I worked in the past to make interTouch the best company in the market when it comes to human resources, skills and capabilities.
How does your company innovate?
In providing touchless technology such we have a 24-hour guest room voice assistant that works round the clock, giving guests access to information, services and amenities, enhancing their visit and allowing them to quickly become comfortable in their room, hotel and city.
We also offer powerful modules that enable features and capabilities to meet both current and future needs of your hotel. Available modules including Wi-Fi, Telephony, Room Control, and In-room Entertainment can be selected at the time of original purchase or as future upgrades.
We also create easy journeys for the hotel guest with products that makes their experience an easier one compared to our competitors, like using passpoint a future proof enrollment technology used in several industries and not that common or extended in the hospitality market, but really well appreciated by the hoteliers even making this their standard for their authentication process for the HSIA services.
How the coronavirus pandemic affects your business, and how are you coping?
The COVID19 affected our business dramatically because the travel restrictions and all the measures put in place by international governments prevented travellers from meeting in person or travel for leisure.
We have been using the COVID19 as the best moment for organizing ourselves better, like I mentioned before, hiring the best professionals in the market, using as well the time for learning, investigating and improving better or more efficient ways of doing our daily job.
For us, it was natural to take decisions in what would be our new mission or vision of the company, what we can do to serve our customers better and being the best partner that customer demand. Nowadays, they need to ensure there is someone else that cares about their valuable guest since, due to the current situation, every single guest counts, even those with a limited Budget going to selected service hotels.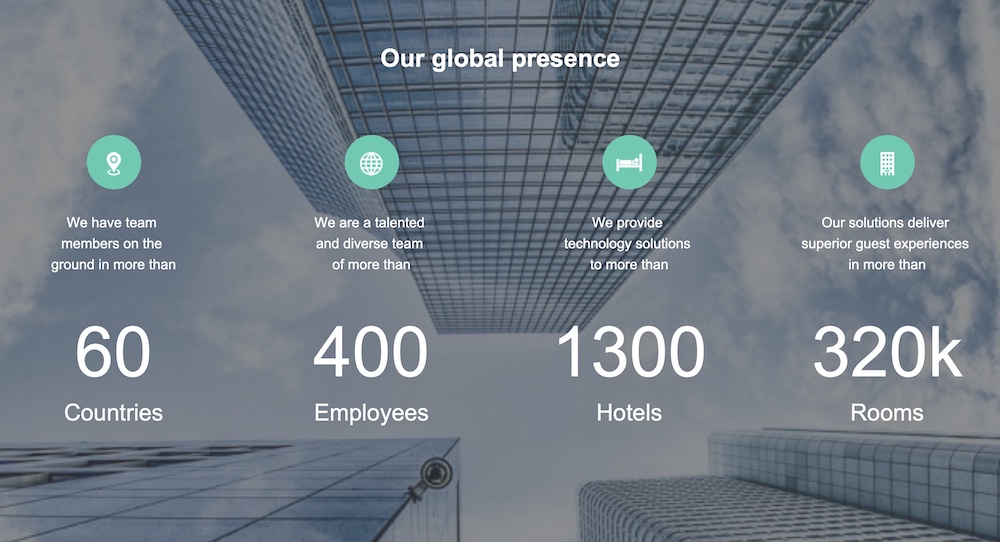 Did you have to make difficult choices, and what are the lessons learned?
Yes, some decisions were complicated, but in the end, those were the best ones ever we could take. Those were helping us in being the market leader since we decided to do organizational changes in the regions and even creating two macro-regions for better company operation.
The lessons we learnt were more about the fact that is never too late to take decisions, rushing your movements can definitely put your business in danger, and the most important thing is the human resources. There is nothing that has more value in a company than their human assets, their commitment and their attitude versus difficult situations.
What specific tools, software, and management skills are you using to navigate this crisis and stress?
Time management, delegation and splitting work from family/personal time. These were the key ones for me, and this is literally something unfortunately recent. Before my time management, it wasn't great since "everything was urgent/important", I was stepping in every single step of the business, which impacts the second one. The delegation, since although that I wasn't doing micromanagement, I could give this impression, but the ground reality is that I trust my team members, and I'm proud of all of them. The last one was to put some limits on me and to use lockdown/restrictions as an "excuse" to get only focus on work it wasn't a great idea as there are other essential subjects in life that you also need to get a great passing grade.
Who are your competitors? And how do you plan to stay in the game?
My competitors are all of them respectable and in fact, I have been passing through 3 companies already in the market. I do appreciate all the time I was working in those companies iBHAN, Guest-Tek and HoistGroup, and I wish everyone can stay in the game as I'm sure there is enough business for all of us to be profitable. There are other companies that depending on the region are also present, but since I have no relationship with them, I would prefer not to mention even that I know them very well since I operate a macro-region.
Our plan to stay in the game is ensuring we keep taking proper decisions, continue to hire the best professionals in the market and delivering a simply better service to our customers in order to ensure our customer retention keeps as it is since we have long stay customers for more than 15 years and really flagship hotels across the globe.
Your final thoughts?
To get focus on COVID19 this experience should be the best learning session for everyone. No one is safe, so keep protecting you, no business is forever since for example, with my manager, we discussed several times that really profitable businesses, industries or verticals were bankrupted due to the effect of the pandemic. Lastly, and the most important one, is to keep your company and employees focussed in innovating, creating great company culture and feel appreciated/proud to be there.
interTouch's website and how people can contact interTouch?
https://www.intertouch.com, and https://www.intertouch.com/meet-our-team-francisco-martin/
Sharing is caring. By sharing this article, you help your friends find this article, that may not happen otherwise without your assistance.