MathSutras Works To Make Math Fun Again
Written by MathSutras's Founders Arathi Gupta and Vidya Muralidharan on June 4th, 2021.
We talked to MathSutras's Founders Arathi Gupta and Vidya Muralidharan about MathSutras, the company that empowers its students with the knowledge of Vedic Mathematics, that can be used, not only as a tool for calculations but also as powerful neurobics (mental and cognitive exercises) to boost mental fitness and improve memory recall, helping to improve overall efficiency.
First of all, how are you and your family doing in these COVID-19 times?
We are doing fine. Trying to stay safe and lending our support where possible during these tough times.
Tell us about you, your career, how you founded or joined this company?
Vidya Muralidharan: I am an IT Professional and a Math Tutor. I have always enjoyed Mathematics through school and college. When I first heard of Vedic Mathematics, I wanted to explore it a bit and to my surprise, found the techniques to be easy for quick mental calculations. They made solving math problems so much fun and interesting. I then decided to do a formal certification in the subject and share these techniques. Arathi and I then collaborated to start this online tutoring venture. That's how all started.
Arathi Gupta: I am a Homeschooling parent, a Mindfulness Practitioner and a Math Tutor. I have also always loved Mathematics. In 2014, I quit my corporate job after a 10 year stint and chose to pursue my interest. I started teaching Vedic Mathematics and Mindfulness to kids informally. But last year during the pandemic I observed kids developing a dislike for mathematics. That's when I decided a lot could be done to help these kids learn and love mathematics and develop confidence. Vedic Mathematics techniques are fun and easy and makes the subject very interesting.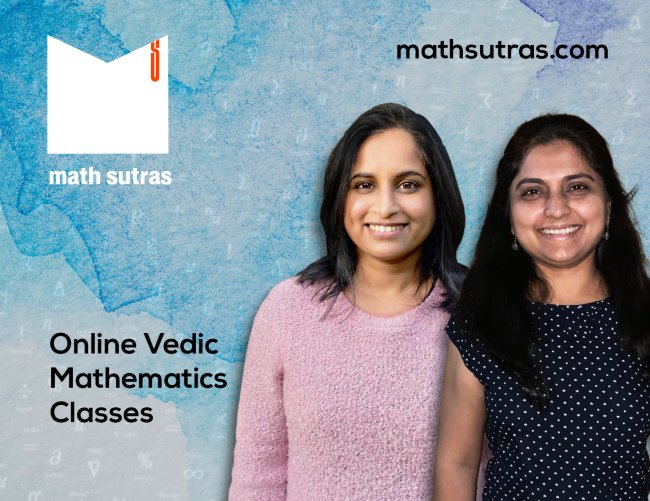 Vidya and I, did a formal certification in the subject and started our online Tutoring venture, MathSutras.
How does your company innovate?
Ours is not a company, it's a tutoring service. We have an online presence and use that to provide information about our courses. Students can register for our programs through the portal. Our classes are offered through a collaborative, interactive video and whiteboard sessions. This allows us to cater to multiple locations and timezones and keep batch sizes small.
How the coronavirus pandemic affects your business, and how are you coping?
Our business has emerged as a response to what we observed with kids during the pandemic and is our way of helping kids cope with learning a difficult subject. The techniques we teach, because they are fun help our students cope with the subject and helps keep their interest alive. From an operational point of view, we have to juggle our daily lives, multiple countries, timezones etc. So far, we have been able to cope quite well.
Did you have to make difficult choices, and what are the lessons learned?
We decided to offer our programs to all students across the world. This meant we had to cater to students from different backgrounds and with different learning skills. Through optimal batch sizing and grouping of similar age groups or locations, we have learnt to adjust our teaching pace accordingly. We have also learnt to make allowances the student may need for our homework assignments and pace the classes accordingly.
What specific tools, software, and management skills are you using to navigate this crisis and stress?
Ours is a tutoring service. Our online web portal has been developed using WordPress. We have incorporated a simple way to register using online forms. We use Google Meet for our classes.
Who are your competitors? And how do you plan to stay in the game?
We have started this service as a means to help students. We have not at the moment given much consideration to competition or expansion. We work with students who reach out to us via our global networks.
Your final thoughts?
We would like to reach out to as many students as we can and share the Vedic Mathematics techniques with them. We feel these techniques will truly help them in the long run.
MathSutras's website and how people can contact MathSutras?
Sharing is caring. By sharing this article, you help your friends find this article, that may not happen otherwise without your assistance.