What To Do In Your Early Ages: HackerHelps Community
Written by V. Kamble: Founder of HackerHelps Community on June 28th, 2021.
We talked to HackerHelps Community 's Founder Vishwadeep Kamble about HackerHelps Community, the community that spreads awareness about Cybersecurity & Digital Forensics among schools, college students, and all over the world.
Tell us about you, your career, how you founded or joined this company?
The company name which I founded is "HackerHelps". As the founder of Hackerhelps (Vishwadeep Kamble) I started my cybersecurity career when I was just 12 years old.
While I was exploring the domains of networking & cybersecurity, I came to know that there's a certain age limit to enroll in these courses. As I was below the line of 18+ many a times, I was not allowed to enroll in some courses even if I had a lot of interest in it.
This repeating incident in my life gave me an idea to open my own start-up called as "HackerHelps". In HackerHelps we don't have any age limit. We teach premium quality courses, live interactive classes as well as we provide internships. I have trained over 50+ cybersecurity enthusiasts in my low age.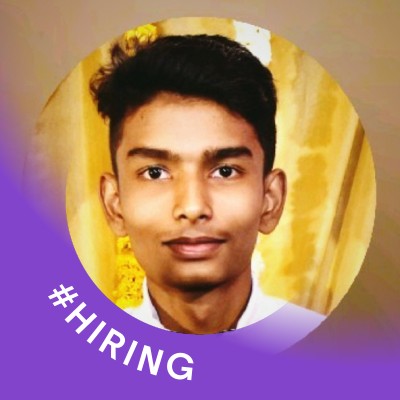 How does your company innovate?
Our company Innovate by Work on implementation of ideas captured by all the employees. We work toward making our courses every day better, developing entirely new and improved products and services, often to meet rapidly changing customers or consumer demands or needs.
How the coronavirus pandemic affects your business, and how are you coping?
We are doing Work from Home, and it hasn't affected our business as our business mostly take place virtually.
Did you have to make difficult choices, and what are the lessons learned?
The biggest thing I 've learned from decision-making is never to regret your decision. As long as you have enough logical information to make the decisions you make, you have nothing to regret.
The biggest thing entrepreneurs must know about decision-making is that you will make bad decisions from time to time. The real success comes when you're bold enough to admit, stand behind your mistakes and learn from them.
What specific tools, software, and management skills are you using to navigate this crisis and stress?
As I told you that we don't have fallen into this crisis. So for us, the tools to do our work are Enthusiasm, Patience, Work Ethics, Dedication, Activeness, etc.
Who are your competitors? And how do you plan to stay in the game?
Currently, I think my competitors are those start-ups with me in educational management. My plan to stay in the game is not to let any fear about negative thoughts enter my mind. I will play with a calm, cool mind with lots of positive quotes.
Your final thoughts?
While we were going to school we can achieve much more things. The things that are going to make you a bright personality are available in free of cost nowadays, so you should learn all those particular things with your school stuff.
How can people contact HackerHelps Community?
You can feel free to join and follow our HackerHelps LinkedIn Community Page.
Sharing is caring. By sharing this article, you help your friends find this article, that may not happen otherwise without your assistance.